Comparing the 2019 Ford Escape to the Competition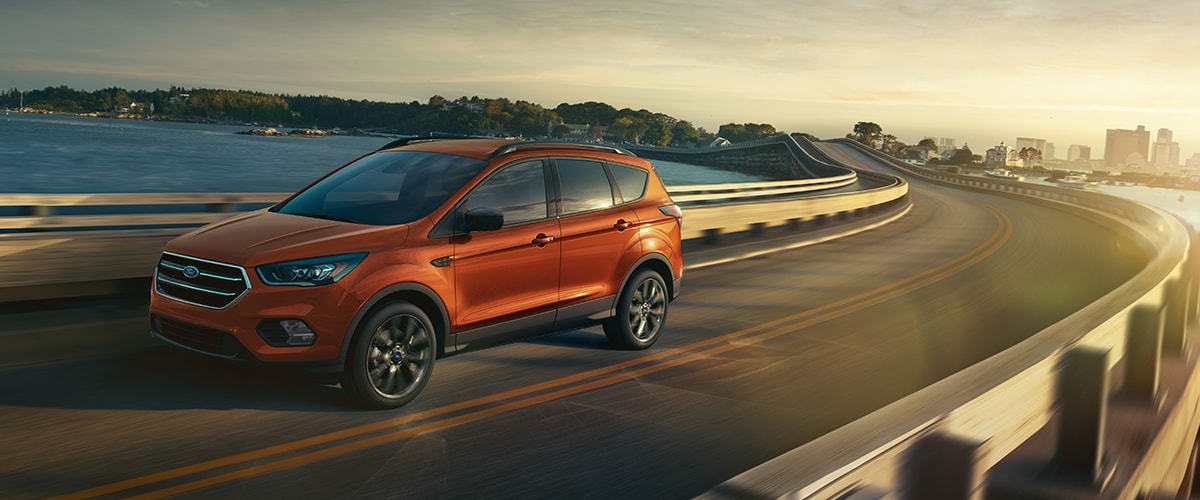 How Does the New Ford Escape Compare to the Nissan Rogue and Honda CR-V?
If you're looking for a versatile SUV for your everyday driving, then the new Ford Escape could be a great fit for your lifestyle. The adaptable design, advanced technology, and family-friendly features of the new Escape make for a well-balanced driving experience that is ideal for a broad range of drivers. Loaded with available safety technology and adaptable capabilities, the new Escape stands out among the competition.
---
While the new Ford Escape has plenty of features to make it a top pick in the compact SUV segment, there are other SUVs that also offer impressive features. The Honda CR-V and Nissan Rogue have both gained recognition for their advanced features and capabilities. While both models have earned their spots as top contenders in the segment, how do they stack up against the new Ford Escape?
Let's compare the key functions of each compact SUV to the Ford Escape so that you can have a better sense of what each has to offer. We know the new Escape delivers a unique driving experience, and through this comparison, we hope that after these comparisons you are as excited about the new Escape as we are.
2019 Ford Escape vs 2019 Nissan Rogue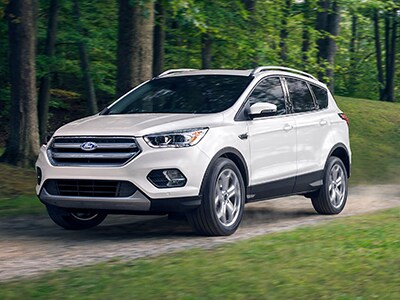 Maximum towing capacity: 3,500 vs 1,102
Overall National Highway Traffic Safety Administration scoring: 5 stars vs 4 stars
Warranty: Three times as many Ford dealerships, making it easier to find warranty service
Top engine options: 245-horsepower 2.0-liter Twin-Scroll EcoBoost® vs 170-horsepower 2.5-liter DOHC engine
Suspension: Standard front and rear gas-charged shocked vs no gas-charged shocks
Tires: The Escape offers larger tires for better traction (235/55R17 vs 225/65R17)
As you can see, when it comes to performance features and driving experience, the new Escape as the upper hand in all the categories that matter most. When you choose the new Escape, you can expect a better handling, more powerful available engine options, and a higher towing capacity so that you can tow along a small boat or trailer.
2019 Ford Escape vs 2019 Honda CR-V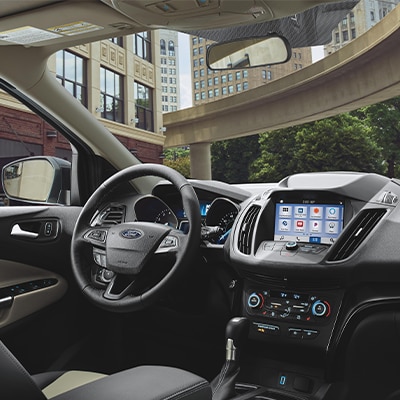 Fuel capacity: 15.7 gallons vs 14 gallons
Stability: Both come with standard Hill Assist Control, Traction Control System, and Electronic Stability Control
Top engine options: 245-horsepower 2.0-liter Twin-Scroll EcoBoost® vs 190-horsepower In-Line Four-Cylinder engine
Maximum towing capacity: 3.500 vs 1,500
Safety technology: Both offer impressive available safety suites. The Ford Safe and Smart package includes adaptive cruise control, forward-collision warning with brake support, lane-keeping assist, blind spot monitoring, high-beam assist and rain-sensing wipers. Honda Sensing comes with collision mitigation braking system, a road departure mitigation system, adaptive cruise control, and a lane-keeping assist system.
Interior design: Comparable amounts of passenger and cargo volume.
Again, if you're more interested in a practical SUV that also offers exciting performance features, then the new Ford Escape is the right choice for you. While the Honda CR-V goes toe-to-toe with the Escape in many important areas, the Escape clearly holds the advantage when it comes to performance and driving experience.
If you want to see the new Ford Escape's impressive features and capabilities for yourself, then come to our location and to experience it in person. Schedule a test drive today to learn more about the Ford Escape and its highly sophisticated design!