Advantage Ford
Parts Department in Fremont
Keep Your Ford at the Top of Its Game with Genuine Ford Parts
---
Part of keeping your Ford model in tip-top shape is taking care to make sure that it stays a Ford model with genuine Ford parts. Here at Advantage Ford Fremont, our parts department offers a well-stocked inventory of Ford parts at the ready. Whether you bring your car to us for service or you handle maintenance yourself, the right parts for the job are here at our Ford dealership. We use genuine Ford parts in our Ford repairs, and we're proud to be your resource when you need to purchase a part for a DIY project.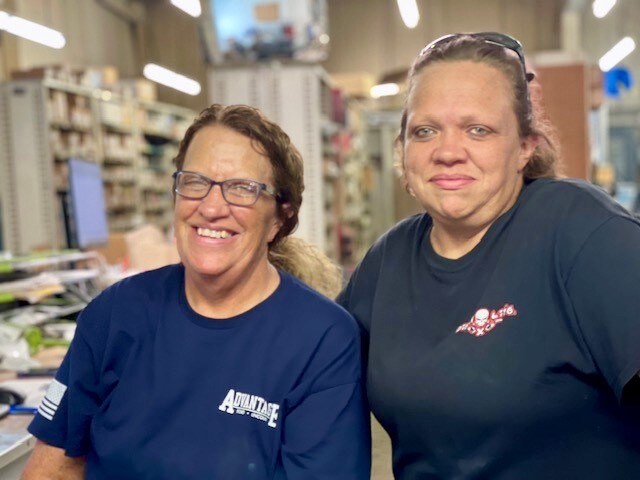 Denise Ashton
- Interim Parts Manager and
Amber Dennull
- Parts Counter/Customer/Wholesale Assistant
Why Genuine Ford Parts Make a Difference
If you're looking for reliable performance, we highly recommend choosing genuine Ford parts for your Ford repairs. There's no one who knows your vehicle better than those who made it to begin with, so choosing parts made or your vehicle by its manufacturer is a surefire way to get the best fit and finish. Ford parts are designed for Ford vehicles, so you can count on them to have the same level of quality and attention to detail that went into your vehicle when it was first assembled.
We know that genuine Ford parts are the right choice for the repairs that we make here at our service center, so we make sure to have a wide range of parts available. Whether your car needs some new brake pads, some fresh sparkplugs, a new battery, or new tires, you can count on us to lend a hand and help you find what you need.
Ordering Parts Is Easy
Need some new Ford parts for your next project? Our parts order form makes it easy to get what you need. Let us know what kind of car you have and what kind of parts you're looking for, and we'll happily handle the process of finding the right fit for your needs.
PARTS ORDER FORM:
* Indicates a required field
Research Additional Parts Information Below
---